Holiday Apartments La Rocca, is a building which offers you different types of holiday apartments within a peaceful and medieval village full of history and surrounded by the gentle Tuscan hills. It is surely the best way to spend a relaxing holiday in contact with nature. The building Appartamenti La Rocca is located at the foot of a steep ledge called "La Rocca". This ledge takes its name from the ancient fortress of Palaia, which in the former times overlooked the whole village.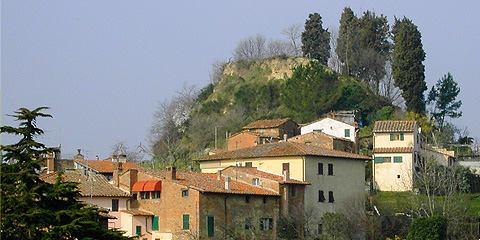 You can easily reach the hilltop of "La Rocca" through the ancient street "Via del Forte", where you will finally enjoy a beautiful panorama: you will see the town of Volterra, the white "soffioni" and the hot water springs of Montecerboli and Larderello, the Pisan Hill which extends until Monte Pisano with its historical Dantean Verruca, and during the nice summer days, at sunset, you will even enjoy the sun shining over the sea, which is only 30 km away.

Besides, the gently countryside and the light wind which blows from the not so far sea have a deep impact on the climate : the mild winter temperatures and the long fresh summers will make your stay in the burg really pleasant in every season of the year

If you like nature, you will surely enjoy the scenic routes, which you will reach some of the most evocative places of the Tuscan landscape through. These routes are typical sings of Palaia Hill. Mountain bikes are available for rental; in the surroundings you will find the following facilities: Golf course, hard - tennis court, riding school and flight ground.

The Holiday Apartments "La Rocca" are recently restored according to the Tuscan tradition and they all follow a same high level of quality. The Apartments are situated in the centre of Tuscany, not far from the most important cities of the region ((Pisa 39 km - Florence 57 Km - Lucca 42 km - Siena 73 km - Volterra 35 km e San Gimignano 36 km).


Distances from the most important cities in the region:
Pisa 39 Km

Firenze 57 km

Volterra 35 km

San Gimignano 36 km

Lucca 42 km

Siena 73 Km